Art Prints for Sale
To purchase a select number of unframed prints, please e-mail me.
Print Only
Price
Print/Double Mat
(Frame Size)
Price

8x12

$50

12x16

$65

10x15

$75

16x20

$90

16x24

$100

20x30

$135
plus shipping and handling. NOTE: In my experience, shipping frames with glass is a problem and one can usually choose their own frame more inexpensively. Send a cashier's check or money order and I will e-mail you the UPS tracking number and delivery date for your print.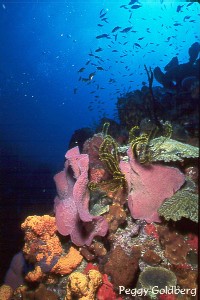 Stock Photos
Nature/wildlife and underwater - from around the world.
Commercial Photography
Specializing in doing brochures, prints for trade shows and advertising.
Photo and Dive River Trips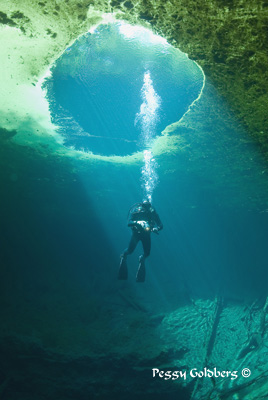 Dive the springs and rivers of North Central Florida with Captain Peggy! Snorkel with the manatees. Photograph birds, alligators, monkeys, otters, racoons, bison and manatees, being guided by yours truly. Combine dive refresher classes with exploring and photographing! See the real Florida! Click here for details!
Location Scouting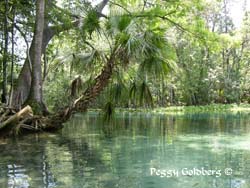 & Consulting for Media
Will help movie , TV and advertising companies with underwater shoots along with location logistics, safety diver and underwater photography/ videography. I have worked with PBS, BBC-Discovery, German Films and others. I am a licensed USCG Captain and have a small boat and extensive knowledge of area rivers, springs and lakes.
Slide & Digital Presentations
Peggy has been an Invited Keynote speaker at Mote Marine Laboratories, the Space Coast Birding and Wildlife Festival in Titusville, the Florida Trail Association Yearly Conference among others. She has given slide and digital presentations for numerous organizations. For more information - E-Mail Peggy at pgoldberg@goldenimages- photo-scuba.com or talk to her in person at 352.591.1508.