Home
ARTICLES ON ECOLOGY, NATURE,
PHOTOGRAPHY AND TRAVEL
(Click on titles to view article intro)
(Click on titles or photos to view articles.)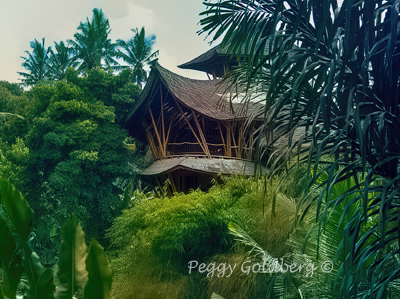 Bali is not just a land of temples, volcanoes, rice fields,good diving, great food, and insane traffic. It is also the home of the Green Village and Green School. I was intrigued by this place, when, several years ago, this unique way of building and living was featured on a news program. The video they showed was stunning, so when we returned to Bali, we had to visit this special place. read more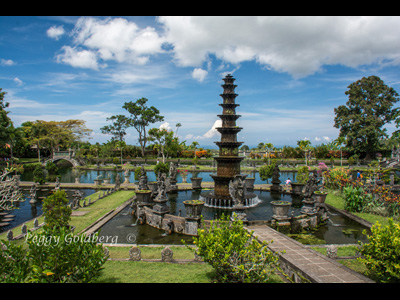 The Indonesian island of Bali is located about halfway down the 3,000 mile long archipelago of Indonesia in SE Asia. If you look at a map of Bali, the locals say it looks like a chicken, and it really does!
Indonesia consists of over 17,508 islands, only 6000 of which are inhabited. Spanning three time zones, there are over 240 million Indonesians, with almost 60% living on Java, the world's most populous island. read more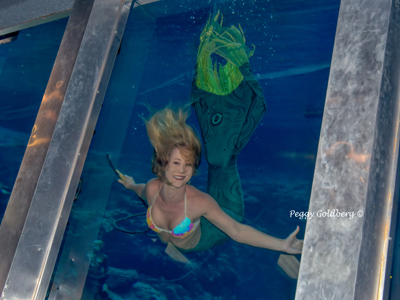 Bordered on the east by the Withlacoochee River and the west by the Gulf of Mexico, sitting at the geographic center of Florida, lies Brooksville and Weeki Wachee, Home of the Mermaids. North of Tampa, and a few miles south of Homosassa, Florida's Adventure Coast is easily accessible. I remember visiting this area back in the 50's, and again in the 90's, enthralled by the Weeki Wachee mermaid shows. At those times, Weeki Wachee was a private attraction founded in 1946. Weeki Wachee Springs became a Florida State Park in 2008, and the mermaid shows are just as much fun now as they were then. read more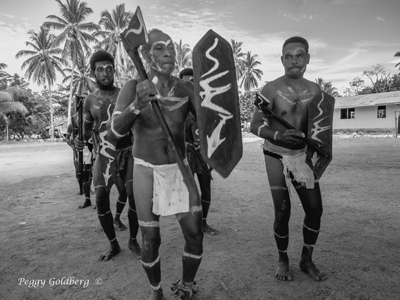 Almost a decade ago, we took a trip to the Solomon Islands. The destination had appealed to me the moment I saw it on a map and realized the rich history and remoteness of its waters would ensure a fabulous underwater experience. It was a Trip of a Lifetime.
Exploring the World War II sites and memorials on Guadalcanal and diving the wrecks gave us a better understanding of what had happened in that area so long ago. The reefs were rich in both hard and soft corals, and the fish numbers were countless. At the time, we thought it was the best diving we had ever encountered. We had taken the live aboard dive boat Bilikiki and enjoyed great food, excellent crew and exceptional diving over several major island groups. The photography was amazing. Meeting the villagers on the islands was inspiring. read more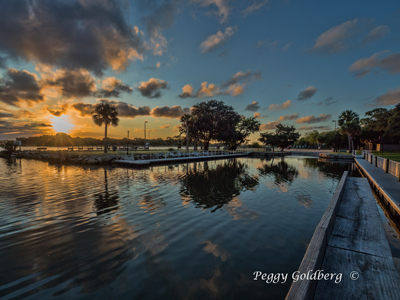 How could I miss this little bit of paradise on the Atlantic side of Florida, just south of Marineland and just north of Daytona Beach? You would think, after 35 years of visiting St Augustine to photograph birds at the Alligator Farm, Crescent Beach to swim, bike and play in the surf with our dogs, not to mention a few trips to Marineland, why didn't I go a few miles further south to this gem. It is an unexpected area of natural, unspoiled beaches, conservation areas and a laid back atmosphere. read more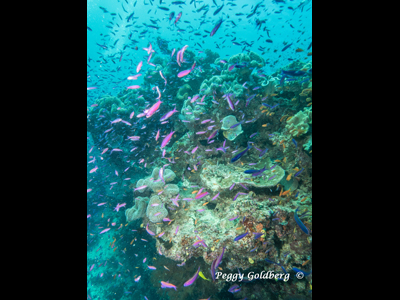 It has been 6 years since our last trip to Fiji on the Nai'a, the liveaboard dive boat that plies the Bligh Waters and the waters southeast of Fiji's 2 main islands of Viti Levu and Vanua Levu. On February 20,2016, Cyclone Winston, the strongest tropical cyclone in recorded history to make landfall in Fiji and the South Pacific Basin hit with winds of over 180mph devastating the landscape. Cyclone Winston, a category 5 storm, impacted many villages, causing over 44 deaths. read more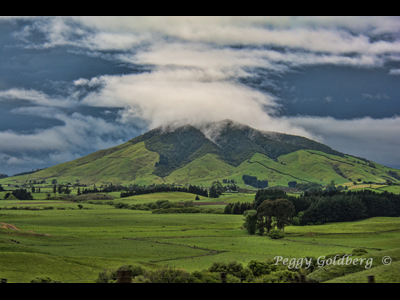 We have wanted to visit New Zealand for 40 years, ever since my parents traveled to this country almost 50 years ago and declared it to be the most beautiful country they'd ever visited.

An island country, New Zealand consists of three main islands - North Island, South Island, and Stewart Island. Located about a 3 hour flight ESE of Sydney Australia, New Zealand is not a tropical land, in fact Stewart Island sits at the 47th parallel and is known as the "Gateway to Antarctica". The islands are overflowing with mountains, valleys, glaciers, fjords, thermal vents, sheep, and only four million people. Auckland, New Zealand's largest city with 2 million residents (half the total population of New Zealand) and Wellington, the capitol, are both located on the North Island. read more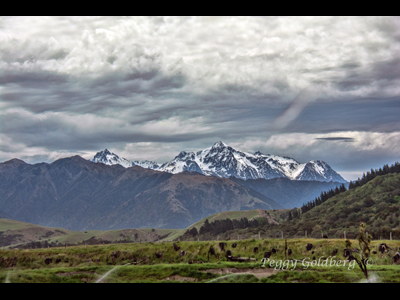 After taking the ferry across the Cook Strait from the North Island to the South Island, we spent the next two weeks covering the whole island from coast to coast. The natural beauty here is awe inspiring, from the fur seals playing in the surf and in a waterfall pool to sperm whales offshore of Kaikoura to the snowcapped peaks and glacial rivers to the wine country, with interspersed sheep and cattle stations. The beauty everywhere you looked had us stopping every few hundred meters for photo-ops. read more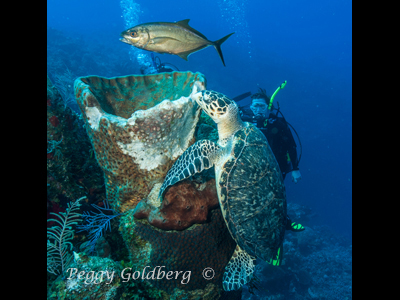 The Turks and Caicos Islands, TCI for short, consists of the larger Caicos Islands and smaller Turks Islands, in the far southern Bahamas, just north of Hispaniola. They are renown primarily for tourism, conchs, and as an offshore financial center. The first time we flew over the Southern Bahamas was in the early 1990's. We had traveled there to dive and marveled at the beautiful turquoise waters as we approached the main island of Provo. We made the trip again to dive in 1994. This year's venture was our third trip there. read more

You are in Springs Country!
The Suwannee River Valley - Lake City, White Springs and Live Oak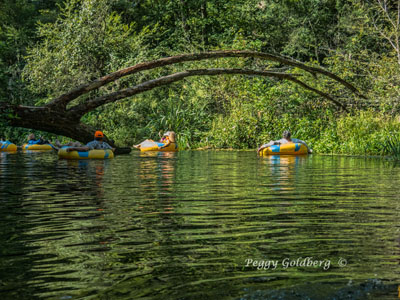 At the intersection of I-75 and US 90, south of I-10 in North Florida, sits Lake City. To the west is Live Oak and to the north of I-10 is White Springs - the Gateway to Florida. It is a tri-county area of springs and rivers encompassing Suwannee, Hamilton and Columbia Counties. North Florida has more springs than any other area in the world and visitors and cave divers come from all over the world to swim, tube, kayak, canoe, and dive year round. The Suwannee, Santa Fe and Ichetucknee rivers are minutes away. read more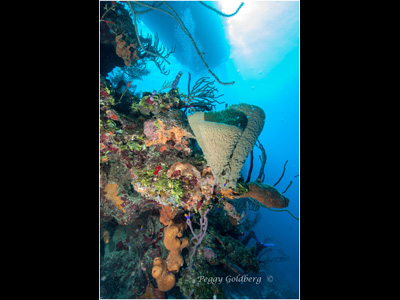 Belize is a part of the Meso-American Biodiversity Hotspot and contains jungles, wildlife reserves and a large variety of flora and fauna. In addition, it also hosts the largest cave system in Central America. Some species of Belize's flora and fauna include the black orchid, the mahogany tree, the toucan and tapirs. read more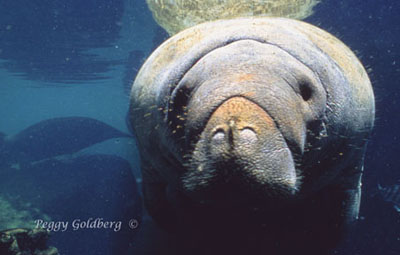 It felt good to return to our old stomping ground in Crystal River in Citrus County on the Gulf of Mexico. We used to volunteer at Ellie Schiller Homossassa State Wildlife Park for many years, and we live in Marion County, a 65 mile drive for us. Over the last few years, our visits have been less frequent, and we missed it greatly. read more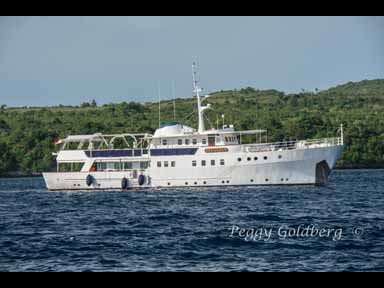 "Between the clouds and the sea, lies a very special place - a diving paradise in the world's epicenter of biodiversity - known as the Wakatobi Dive Resort." For many years, we had heard about the dive destination of Wakatobi in Indonesia, as one of those once-in-a-lifetime destinations for diving. Things finally came together and we were able to make plans for a trip that included some time in Bali, and then diving on the Pelagian live aboard and the Wakatobi Dive Resort, both run by the same company. read more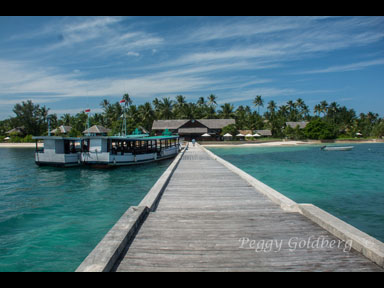 We are not dive resort people. We tend to want to just dive. We are not the lay around the beach types, or go to the bar types of folks. At a lot of resorts, lugging your gear every day out to the boats gets old after day one. So, our decision to stay a week at a dive resort was made because of the distance and time it takes to get there, and to only spend one week in the area didn't make much sense. read more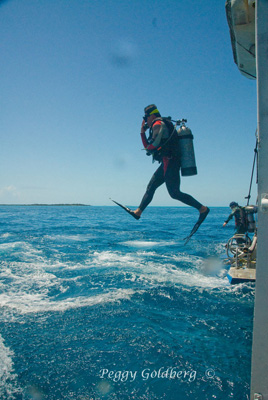 Florida is one of the top states in the nation for boat related activities, not the least of which is diving. There is a popular bumper sticker that says, 'If you can read this, I have lost my boat'. Pretty funny, except - what if you are on a dive, or fishing, off the coast, and you really have lost your boat?read more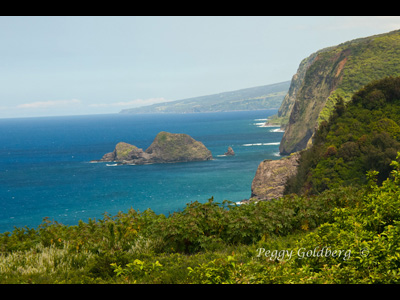 Over the last 25 years, we have made several trips to all the islands of Hawaii, mostly for the diving, but also to explore and discover. We had fallen in love with the Garden Island of Kauai many years ago and had even thought of eventually moving there. Our last dive trip to the Big Island was 15 years ago, in 1998. As time came closer for my husband to retire, we thought again of moving to the islands. Because we are such avid divers and love the outdoors, we decided to investigate the Big Island as a possibility. The diving is more extensive and varied than on the other islands, and it appeared cheaper to live there.read more





Polk County - Central Florida's land of cattle, cowboys, rodeos, lakes,
fishing, boating, birding and exotic gardens.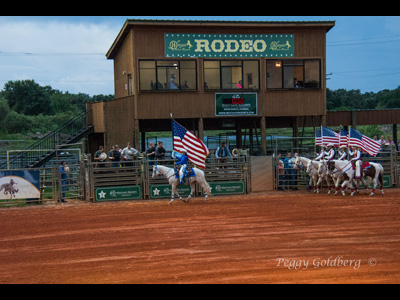 Just south of Orlando, in central Florida, lies Polk County. In less than an hour's drive, you will be as far removed from the bright lights of Disney World as you can get. Here, thriving orange groves have survived the freezes. Cattle, horses, and cowboy culture reigns.read more




The Space Coast and Titusville - Where Rockets and Wildlife Meet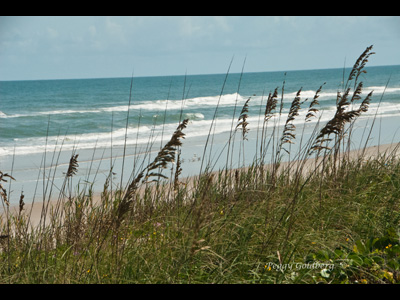 Florida is an amazing place. You can travel to any part of it and find, in amongst the tourist attractions, places where wildlife and wilderness coexist side by side with human technology. Titusville and the Kennedy Space Center on the east coast in Brevard County is one of those places.read more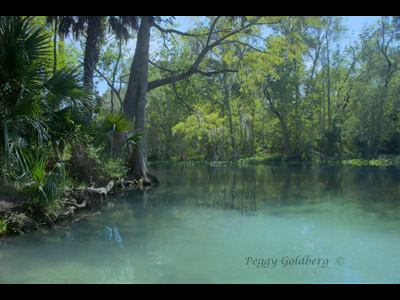 When, in our wildest dreams, did we ever think that such a treasure and historic landmark as the Silver River, one of the largest first magnitude springs in the world, would disappear in our lifetime? I regret to inform you it is happening right now before our very eyes - not decades from now, but right now.
As of August 22, 2012 - An Update on the Adena Springs Consumptive Use Permit read more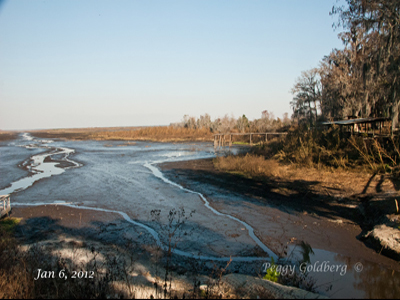 Here we go again...it is December 2011, and I have been watching Orange Lake, Cross Creek and Lake Lochloosa disappear before my eyes. Fish camps are high and dry, with the boat slips about 10' above whatever water is left. Orange Lake normally covers over 13,000 acres, famous for it bass fishing and duck hunting in the winter. read more




The Paradise Coast - Naples, Marco Island and the Everglades
Adventures in Unique Ecosystems and Habitats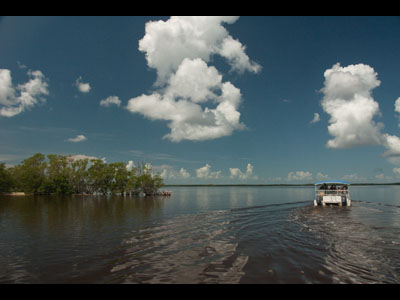 If your image of Naples and Marco Island consists of rich older retirees, expensive homes on the Gulf of Mexico, and many many golf courses, you would only be partially right. I attended the Florida Outdoor Writers Association Conference held in Naples August 24-27 and was surprised to learn the Paradise Coast is an area of extensive outdoor adventures. Just outside the Naples city limits lies the Everglades, the mangroves of the Ten Thousand Islands, white sand beaches, barrier islands and the Audubon Society's Corkscrew Swamp Sanctuary, home of the elusive ghost orchid. read more



For Alternative UW Photography
Try a Point and Shoot Approach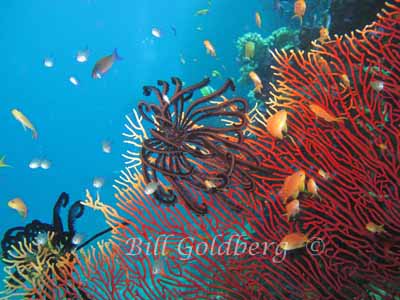 Point and shoot cameras have come a long way in the last few years, offering more controls, less shutter lag, bigger sensors, and a variety of zoom lenses (note: the photos shown here were taken with a Canon G11 point-and-shoot in a Canon housing with no external strobe).
Before choosing an underwater camera and housing, it is best to try and understand the limitations of each before you purchase. read more
Fiji is a land of 333 islands, many of which are uninhabited. The two main islands are Viti Levu and Vanua Levu. The islands of the Yasawa Group lie to the west, and the Lau group to the east. It is a place to cruise, dive, snorkel, hike, fish, and now even do some whitewater rafting and zip lining in the jungles. read more
As a member of the Florida Outdoor Writers Association, I get to travel all around the state of Florida. Since my interests are in outdoor activities, Tallahassee was not on my top 10 list of places to visit. It didnít seem to be the kind of place that would attract kayakers, canoers and nature photographers. As a cave diver, I was aware of some of the first class springs and caves in that area, but still never ventured further, thinking Tallahassee was just the seat of government. read more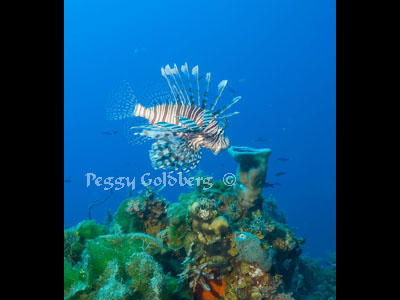 The Bahamas lie only 50 miles or so off our eastern coast in Florida, and close enough for people to pop over for a weekend of diving and fishing. It is famous for its sharks, long lining having been banned almost 20 years ago. The best known species are the Caribbean Reef, Great Hammerhead, Lemon and Oceanic Whitetip, among others, that range from the mangroves to the open ocean. read more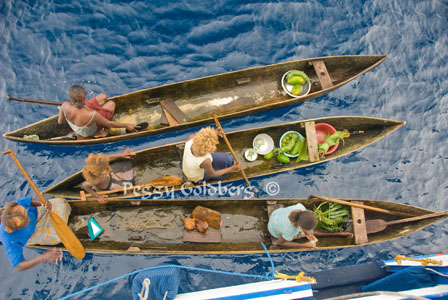 We have been wanting to dive the Solomon Islands for some time now, and finally, the opportunity availed itself, and we were able to get away for several weeks to explore and dive this unique, remote region. read more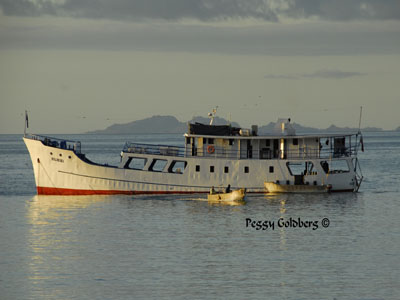 We had long heard of the richness of the reefs and the great diversity of the marine life, with new species, found nowhere else in the world, being identified. The Solomons has long been a mecca for divers, and the best way to see the variety of the marine life over such a large area is on a liveaboard dive boat.read more
My Ultimate Mandarinfish Shot - Or How I Captured the Image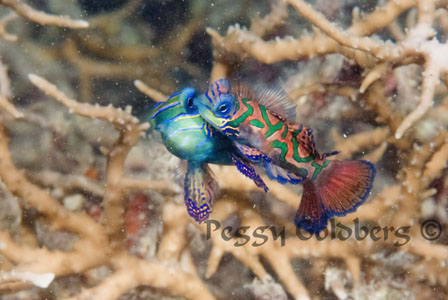 Often when I travel to a new destination, I have done some research on the signature creatures of the area, and I have an image in my head that I would like to achieve in my photographs. read more
Where Have All the Fish Gone?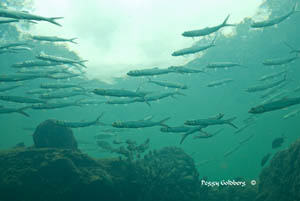 As early as the end of the last century, the experts felt that the fisheries were inexhaustible - and it would be useless to try and regulate them. It only goes to show you how wrong we can be.
Seafood consumption has never been at an all time high as it has been now, and Nature magazine published recently that a scientific assessment of our fisheries shows that if we don't do something now to correct the problem of overfishing, commercial seafood will be gone by the year 2050. read more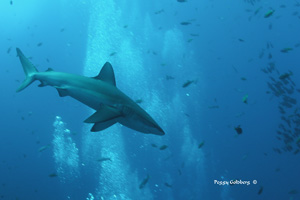 I recently had a chance to go to a place where we had the pleasure of diving with all of the above, often on the same dive! I am talking of a remote place, 250 miles SW of the tip of Baja - the Revillegegedos - more commonly known as the Socorro Islands. These are largely uninhabited islands- volcanic outcroppings in the Pacific. Only the largest island, Socorro, supports a Mexican Naval Base. It is what is underwater that attracts the few hardy divers to these islands- accessible only by liveaboard dive boat.read more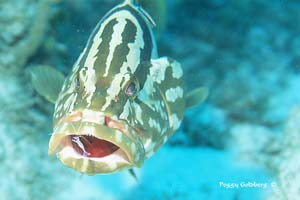 Another year has flown by, and the speed at which this happening every year seems to accelerate exponentially. It makes me more aware of how little time is left to accomplish the goals I have set so many years ago.read more




The Return of Orange Lake, Lake Lochloosa and
Cross Creek - 2005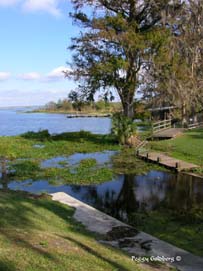 After so many years of drought with associated dropping aquifer levels that allowed sinkholes to open and reduce our lakes to dry mud holes in a few short weeks, it is my great pleasure to inform you that the lakes are back!
I did not believe, in my lifetime, that I would see our waterways return to what they once were. However, in the late summer and early fall of 2004, Florida had four hurricanes sweep the state....read more
Many times, after doing my eco and dive tours here in North Central Florida, clients are excited about doing the same kind of thing in other areas of the state they will be visiting.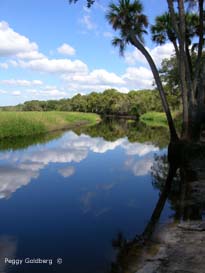 I am finding little (and big) treasures all over the state of Florida, and if you are ever on the west coast near Venice and Sarasota, the Myakka River State Park is a must. A short hop from Tampa, near Sarasota, just 9 miles east of I75 on Rt 72 (exit 205) is one of the largest and most diverse state parks in the Florida Park system, developed by the CCC in 1934.

There are 2 shallow lakes, which makes kayaking, canoeing, fishing, birding, and wildlife observation popular activities. Read about the "25 things to do" in the Myakka River State Park...read more





Orange Lake Revisited - August 2003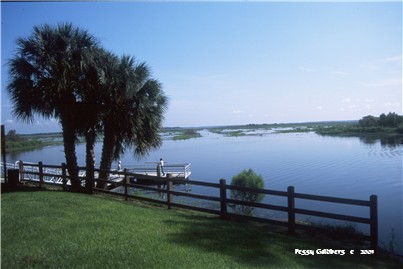 When I wrote about Orange Lake 2 years ago, we were in the midst of a 5-year drought. This past year of 2002-2003 has seen rainfall getting back to the more normal levels of years past, with rain almost every day. This summer, we have even exceeded our normal rainfall levels in many areas. For the past few months, we have watched Orange Lake's water level start to rise...read more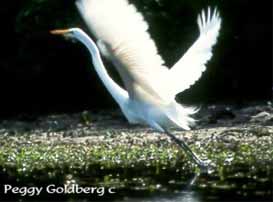 Take a tour of the Silver River with Captain Peggy. Beginning at the headwaters of the Silver Springs Attraction, this first magnitude spring joins others to form the Silver River - winding about 6 miles through jungle, cypress and forest to join with the Ocklawaha River. The pure clear water attracts wildlife - many species of birds, alligators, turtles, raccoons, monkeys, otter, armadillos, bobcat, deer, hog and even turkeys! Underwater, you will see bream, bass, mullet, gar, diving birds (like the anhinga and cormorant), and if you are very, very lucky, maybe even an alligator! A unique treasure that is in our backyard - a few hours on her waters will renew your soul. Find out what we experienced on a day on the Silver River...read more

If you are not interested in animated mice and neon lights, but prefer the smell of salt air, fantastic sunsets, canoeing or kayaking on quiet rivers and creeks, fishing, boating, diving, bird watching, biking and hiking, then you need to check out this little jewel on the Gulf of Mexico. The little fishing village of Steinhatchee not only offers these activities, but has great seafood for the palate. One of the "must visits" is the Steinhatchee Landing Resort, dedicated to recapturing the spirit of old Florida. Another is the Steinhatchee Outpost for the more adventurous camper, canoer/kayaker and ecotourist. Read about this exciting place of peace, beauty, quiet, and endless photographic opportunities on the Nature Coast...read more

A more cynical view of the future as we go into the next 1000 years....read more
Birding trails are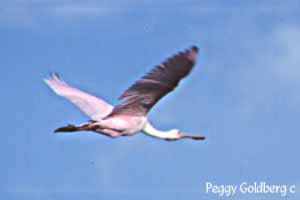 worth a lot of money for communities. Birders "flock" to local hotels, restaurants, and stores that sell equipment for outdoor travel. See how you can set up birding trails in your area...read more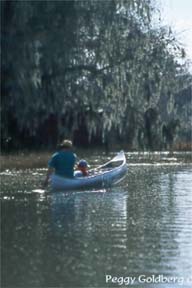 Cross Creek connects Orange Lake with Lake Lochloossa - because of a 3 year drought, and a sinkhole that reopened in Orange Lake, this beautiful creek (of Marjorie Kinnans Rawlings fame) - no longer exists...read more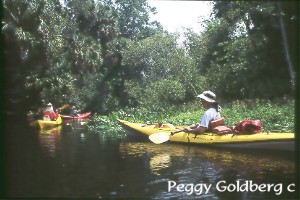 The Blackwater Creek runs about 22 miles into the Wekiva - meandering its dark, tea colored water through the 22,000 acre Seminole Forest. It is one of the most remote areas in Florida, yet it is very near to one of the most populated -Orlando!...read more






THE BEST OF FLORIDA IS UNDERWATER
The treasures and jewels of our springs and rivers in North Central Florida - Diving, canoeing, snorkeling...How long some of these special places will be here for us to enjoy remains to be seen. It is up to all of us to look to the future and work to ensure that we don't destroy all these precious water sources. Cities like Tampa and Miami are already looking to this area to extract our fresh water for their uses. Only when they take all the fresh water for the masses of people moving in, will they look to the reusable sources of water right at their doorstep...but by then it will be too late...read more
Without water, we all die.....
Please feel free to respond to any of the articles, and if you have news you wish to share, please email me at pgoldberg@goldenimages-photo-scuba.com .
___________________________________
[Home] [ Articles] [Classes] [Commercial] [Photo Tips] [Photo Gallery]
Please contact our Webmaster with questions or comments.
© Copyright 2000-2021 Golden Images, Inc. All rights reserved.